Naposledy aktualizováno: 2.10.2018
Talentovan├ęmu trumpetistovi, hr├í─Źi na k┼Ö├şdlovku, ┼íikovn├ęmu aran┼ż├ęrovi a skladateli Shortymu Rogersovi (14. 4. 1924 – 7. 11. 1994, narozen jako Milton Michael Rajonsky) pat┼Ö├ş jedno z p┼Öedn├şch m├şst v pomysln├ę encyklopedii Kdo je kdo ve West Coast Jazzu.
Modern├ş, robustn├ş, bopov─Ť zn─Ťj├şc├ş zvuk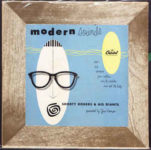 Shorty Rogers m─Ťl pov─Ťst vynikaj├şc├şho muzikanta. Budoval ji ji┼ż v p┼Öedv├íle─Źn├ęm obdob├ş. Tehdy byl ─Źlenem kapel vibrafonisty Reda Norvo a trombonisty Willa Bradleyho.
Hv─Ťzdn├Ż statut definitivn─Ť z├şskal po n├ívratu z boji┼í┼ą Druh├ę sv─Ťtov├ę v├ílky. Po odchodu z arm├ídy p┼Öijal v├Żznamnou trojroli skladatele-aran┼ż├ęra-trumpetisty, kterou nejd┼Ö├şve plnil ve "st├ídu" Woodyho Hermana (1945 – 1949) a pot├ę v┬ábig bandu Stana Kentona (1950 – 1951).
Od roku 1951 vedl sv├í jazzov├í comba. Anga┼żm├í z├şskali v klubech s├şdl├şc├şch na ┼żiv├ę losangelsk├ę hudebn├ş tepn─Ť Central Avenue. Na plak├ítech se objevovali jako The Giants. Slo┼żen├ş se am├ębovit─Ť m─Ťnilo. Oscilovalo mezi kvintetem, nonetem a n├írazov─Ť nabobtnalo a┼ż do regul├ęrn├şho big bandu.
Pomohl na─Źrtnout principy west coast jazzu
Rogers byl u jazzov├Żch┬á fanou┼ík┼» nesm├şrn─Ť popul├írn├ş. Chopil se p┼Ö├şle┼żitosti a spole─Źn─Ť se sv├Żmi spoluhr├í─Źi nad┼íen─Ť na─Źrtl z├íkladn├ş standardy a hudebn├ş principy tzv. West Coast Jazzu.
Prim├írn─Ť ┼ílo o jemn─Ťj┼í├ş b─Ťlo┼ískou variantu propojen├ş Swingu a Bebopu. Postupn─Ť se k n─Ťmu hrd─Ť hl├ísilo st├íle v├şce mlad├Żch muzikantsk├Żch osobnost├ş. Vych├ízeli z pojet├ş "Birda" Parkera a potk├ívali se n─Ťkde na p┼»li cesty s p┼Ö├şstupem Davisova nonetu Birth Of The Cool.
Publikum nach├ízeli jak u b├şl├Żch, tak i ─Źerno┼ísk├Żch vysoko┼íkol├ík┼». Postupn─Ť je za─Źala objevovat i st┼Öedostavovsk├í omladina, je┼ż netrp─Ťla p┼Öedsudky v┼»─Źi ─Źerno┼ísk├ęmu jazzu a vyhled├ívala novinky.
v├Żznamn├Ż harmonick├Ż pokrok modernist┼»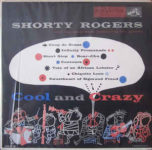 Bohu┼żel, ji┼ż od prvn├şch vystoupen├ş museli jazzov├ş progresivist├ę ze Z├ípadn├şho pob┼Öe┼ż├ş ─Źelit ─Źasto p┼Öehnan├ę a nevyb├şrav─Ť pomlouva─Źn├ę kampani ze strany odborn├ę kritiky. Ta pova┼żovala nov├Ż jazzov├Ż styl za strnul├Ż, ┼íablonovit├Ż a bez jak├Żchkoliv emoc├ş.
S odstupem v├şce jak ┼íedes├íti let se ukazuje, jak tragicky se tenkr├ít hudebn├ş publicist├ę m├Żlili. Dnes se West Coast jev├ş b├Żt jen reakc├ş na n─Ťkdy zbyte─Źn─Ť komplikovan├ę bebopov├ę postupy. P┼Öibli┼żn─Ť na konci prvn├ş poloviny pades├ít├Żch let 20. stolet├ş se westcoastov├ęmu spole─Źenstv├ş dostalo zaslou┼żen├ę satisfakce a ne─Źekan├ę popularity.
V lednu 1952 vych├íz├ş u Capitol Records desetipalcov├ę album s n├ízvem Modern Sounds by Shorty Rogers And His Giants. Jeho protagonist├ę┬áspole─Źn─Ť za─Ź├şnali hr├ít coby ─Źlenov├ę kapely Lighthouse All Stars veden├ę Howardem┬á Rumseym. Pravideln─Ť vystupovali v klubu Lighthouse Caf├ę na kalifornsk├ę Hermosa Beach. Byl mezi nimi mj. klav├şrista Hampton Hawes. Tahle muzikantsk├í parta spolu dr┼żela i v dal┼í├şch letech. Pom─Ťrn─Ť intenzivn─Ť a pravideln─Ť spolupracovali na spole─Źn├Żch i s├│lov├Żch projektech.
Z dne┼ín├şho pohledu je titul┬áModern Sounds by Shorty Rogers And His Giants p┼Öedev┼í├şm d┼»le┼żit├Żm dobov├Żm zvukov├Żm dokumentem, jak v├Żznamn├ęho harmonick├ęho pokroku modernist├ę mezit├şm dos├íhli.
Cool and crazy
Jednou z nejlep┼í├şch Rogersov├Żch klasick├Żch westcoastov├Żch nahr├ívek je desetipalcov├ę vinylov├ę album z roku 1953 Shorty Rogers And His Orchestra Featuring The Giants: Cool And Crazy (RCA Victor Records).
Hraje na n─Ťm tehdej┼í├ş sedmn├ícti─Źlenn├í sestava Obr┼» se saxofonisty Artem Pepperem, Budem Shankem, Bobem Cooperem, Jimmym Giuffrem, trumpetisty┬áHarrym 'Sweets' Edisonem, Maynardem Fergussonem, hornistou Johnem Graasem, tubistou Gene Englundem,┬á pianistou Marty Paichem, kontrabasistou Curtisem Councem a buben├şkem Shellym Mannem.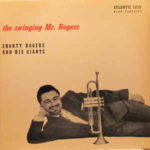 Nahr├ívka se do─Źk├í reedice o t┼Öi roky pozd─Ťji pod n├ízvem Shorty Rogers And His Giants: The Big Shorty Rogers Express (1956, RCA Victor Records). LP deska byla roz┼í├ş┼Öen├í o ─Źty┼Öi nov├ę sn├şmky, na n├ş┼ż se pod├şlela lehce modifikovan├í sestava The Giants.
Minim├íln─Ť kvarteto skladeb, kter├ę se na na obou titulech objevily – dusav├í Short Stop, na lesn├şm rohu postaven├ę Coop De Graas a Sweetheart Of Sigmund Freud nebo emotivn├ş Infinity Promenade, p┼»sob├ş i po letech sv─Ť┼że a jsou dokonal├Żm p┼Ö├şkladem Shortyho talentu.
Od pocty Hrab─Ťti Basiemu ke spolupr├íci s Chetem Bakerem a Perezem Prado
Vyd├ín├ş zda┼Öil├ęho titulu p┼Öedch├ízela pocta swingov├ęmu pianistovi a kapeln├şkovi Countu Basiemu Shorty Rogers Courts The Count (1954, RCA Victor Records). Rogers tak├ę ┬áaran┼ż├ęrsky vypom┼»┼że trumpetistovi Chetovi Bakerovi na jeho titulu┬áChet Baker & Strings (1954, Columbia).
P┼Öipomenut├ş si zaslou┼ż├ş i jeho spolupr├íce s kub├ínsk├Żm varhan├şkem a kapeln├şkem Perezem Prado na koncep─Źn├şm albu Voodoo Suite (1955, RCA Victor Records)
Pot├ę se na trhu objev├ş dlouhohraj├şc├ş deska Shorty Rogers And His Giants: The Swinging Mr. Rogers (1955). Supervizi nad n├ş p┼Öevzal Nesuhi Ertegun, ┼í├ęf jazzov├ęho odd─Ťlen├ş Atlantic Records.
Ji┼ż tehdy v├Żrazn─Ť zredukovan├ę The Giants tvo┼Ö├ş pouh├í p─Ťtice skv─Ťl├Żch instrumentalist┼». Ke klav├şru usedl Pete Jolly, setrvali Jimmy Giuffre, Curtis Counce a Shelly Manne. Nahr├ívalo se v b┼Öeznu 1955 v Hollywoodu. Z osmi sn├şmk┼» dodnes p┼Öekvap├ş p┼Öedev┼í├şm v├Żte─Źn├í Not Really The Blues. Neo─Źek├ívan├Żm instrument├íln├şm hitem se stala Martians, Go Home.
Konec zlat├ęho obdob├ş West Coastu
Obry v roce 1958 dopln├ş oktet hr├í─Ź┼» na perkuse. Rogers si tak vyzkou┼í├ş tehdy nesm├şrn─Ť popul├írn├ş afrokub├ínsk├Ż jazz. Nahr├ívky vych├íz├ş na albu Afro-Cuban Influence (RCA Victor Records).
O ─Źty┼Öi roky pozd─Ťji fanou┼ík┼»m nab├şdne svoji p┼Öedstavu pojet├ş M├║sica popular brasileira na LP desce Bossa Nova pro sinatrovsk├ę Reprise Records.
Mezit├şm vyd├ív├í s├ęrii komer─Źn├şch nahr├ívek, a┼ą ji┼ż s hudbou z film┼» ─îarod─Ťj ze zem─Ť Oz a Tarzan, Opi─Ź├ş mu┼ż (Wizard of Oz and Other Harold Arlen Songs [1959, RCA Victor Records], Shorty Rogers Meets Tarzan [1960, MGM Records]) nebo p┼Öepracovan├ę motivy z baletu Lousk├í─Źek od rusk├ęho klasick├ęho skladatele P. I. ─îajkovsk├ęho (Swingin' Nutcracker [1960, RCA Victor Records]).
Tv┼»rce filmov├ę hudby
Pot├ę coby aktivn├ş muzikant opou┼ít├ş na dv─Ť desetilet├ş jazzovou sc├ęnu. T─Ť┼żi┼ít─Ť dal┼í├ş pr├íce spat┼Öoval p┼Öedev┼í├şm v aran┼żov├ín├ş a ve skl├íd├ín├ş televizn├ş a filmov├ę hudby. Dobov├Ż tisk spojoval jeho odchod s koncem tzv. "zlat├ęho obdob├ş West Coastu."
Co obn├í┼í├ş spolupr├íce s filmov├Żm pr┼»myslem┬ási vyzkou┼íel ji┼ż o dek├ídu d┼Ö├şve. Spolupracoval na dvou zaj├şmav├Żch filmech. Nejd┼Ö├şve m─Ťl slo┼żit hudbu pro road movie┬áWild One (1953, ─Źesky Divoch) s Marlonem Brandem, kter├Ż si jej osobn─Ť vy┼ż├ídal.┬áColumbia Pictures┬ádalo nakonec p┼Öednost Leithovi Stevensovi a ze Shortyho hudby z┼»stalo pouze n─Ťkolik fragment┼».
V roce 1955 si zahr├íl roli kapeln├şka jazzov├ęho comba, se kter├Żm vystupuje hlavn├ş postava Frankie Machine, ztv├írn─Ťn├í Frankem Sinatrou, v nezvykle realisticky nato─Źen├ęm dramatu z prost┼Öed├ş drogov─Ť z├ívisl├Żch┬áMan With The Golden Arm.
odkl├ídan├Ż N├ívrat na jazzov├í p├│dia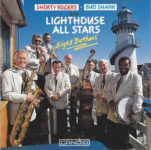 V ┼íedes├ít├Żch letech, a celou n├ísleduj├şc├ş dek├ídu, Shorty nab├şz├ş p┼Öedev┼í├şm svoje aran┼żersk├ę slu┼żby. Mezi klientelou jsou nap┼Ö. slavn├ę zp─Ťva─Źky Peggy Lee, Lena Horne, Helen Humes a Carmen McRae.
Typick├Żm "zak├ízkov├Żm ┼íuntem" zav├ín├ş pr├íce pro "producentsk├Żmi pr├í┼íky vyhon─Ťnou" pop skupinu The Monkees.
Ve v├Ż─Źtu bizarnost├ş m┼»┼żeme sm─Ťle pokra─Źovat, by┼ą p┼Öipou┼ít├şm, ┼że existuje ┼Öada fanou┼ík┼», kte┼Ö├ş podobn├ę sn├şmky vyhled├ívaj├ş – a tak Rogerse najdeme podepsan├ęho pod nahr├ívkami here─Źky a kabaretn├ş zp─Ťva─Źky Frances Faye, ─Źi na albu coververz├ş A Spoonful Of Jazz (1967, World Pacific Jazz) poprockov├Żch Lovin' Spoonful, j├ş┼ż m─Ťl na sv─Ťdom├ş Shortyho v─Ťrn├Ż par┼ą├ík Bud Shank.
Dal┼í├şmi Rogersov├Żmi vd─Ť─Źn├Żmi abonenty jsou jazzov├Ż trumpetista Bobby Bryant, se kter├Żm spolupracuje na albu Jazz Excursion Into Hair (1969, World Pacific Jazz) s hudbou ze slavn├ęho broadwaysk├ęho muzik├ílu nebo swingov├í bubenick├í extrat┼Ö├şda Buddy Rich (Buddy & Soul [1969, World Pacific Jazz]).
Pro mnoh├ę bude velk├Żm p┼Öekvapen├şm setk├ín├ş s b─Ťlo┼ísk├Żm bluesrockov├Żm kytaristou Harveym Mandelem, jemu┼ż Rogers pomohl p┼Öi nat├í─Źen├ş LP desek Righteous (1969, Philips) a┬áBaby Batter (1971, Janus).
Byl inspirac├ş i pro gustava broma
V roce 1982 vyr├í┼ż├ş spole─Źn─Ť s┬ábritsk├Żm National Youth Jazz Orchestra na turn├ę po Spojen├ęm kr├ílovstv├ş. V n├ísleduj├şc├şm roce┬á sestav├ş nov├ę jazzov├ę combo se sv├Żm souputn├şkem; altsaxofonistou Budem Shankem a spole─Źn─Ť ─Źile koncertuj├ş.
Jedn├şm z jejich spole─Źn├Żch nejzaj├şmav─Ťj┼í├şch projekt┼» jsou nahr├ívky na┬áCD disku Eight Brothers. Vych├íz├ş v roce 1992 pod hlavi─Źkou Shorty Rogers – Bud Shank And The Lighthouse All Stars u labelu Candid Records.
Shorty Rogers um├şr├í v roce 1994 na zhoubn├Ż melanom.
Lubom├şr Dor┼»┼żka ve sv├ę knize Panor├íma jazzu (1990, Mlad├í fronta) o n─Ťm mj. napsal: "K nejvlivn─Ťj┼í├şm z nich pat┼Öil trumpetista a aran┼ż├ęr Shorty Rogers, rovn─Ť┼ż odchovanec orchestru Woodyho Hermana. Jeho vlastn├ş 'st┼Öedn├ş big band' s lesn├şm rohem a tubou se stal mimo jin├ę v polovin─Ť pades├ít├Żch let i vzorem pro na┼íeho Gustava Broma."
Ukázky:
Short Stop
– https://youtu.be/GDSLgfTSpDE
Coop de Graas
– https://youtu.be/S8CToJPe3nY
Infinity Promenade
– https://youtu.be/K-vOezvDW_Y
Apropos
– https://youtu.be/hIFmHGVZeQ8
Martians Go Home
– https://youtu.be/hct84B9omxc
Chega de Saudade
– https://youtu.be/AbC8KLhUTc8
Shorty Rogers and Bill Perkins – Live at the Royal Palms Inn
– https://youtu.be/ek9nVfTiq5E