Naposledy aktualizováno: 24.11.2018
P┼»vodn─Ť ─Źist─Ť doo-wopov├Ż kvintet "5" Royales se proslavil coby v├Żznamn├Ż reprezentant nastupuj├şc├şch rhythm'n'bluesov├Żch a soulov├Żch skupin.
Jedna z nejd┼»le┼żit─Ťj┼í├şch ─Źerno┼ísk├Żch vok├íln├şch skupiny historie pop music
Hudba p─Ťtice "5" Royales nebyla nikdy p┼Öij├şm├ína zcela bez v├Żhrad. Dne┼ín├şmi fanou┼íky b├Żvaj├ş p┼Öehl├ş┼żeni a trestuhodn─Ť zanedb├ív├íni. P┼Öes to pr├ívem n├íle┼ż├ş mezi nejd┼»le┼żit─Ťj┼í├ş ─Źerno┼ísk├ę vok├íln├ş skupiny historie pop music.
Spole─Źn─Ť s Rayem Charlesem, Arethou Franklin a dal┼í├şmi ─Źerno┼ísk├Żmi interprety, k nim┼ż m┼»┼żeme je┼ít─Ť p┼Öi┼Öadit Clydea McPhattera z The Drifters nebo Hanka Ballarda z Royals/Midnighters, se dok├ízali vymanit z vlivu duchovn├ş hudby a pronikli do l├íkav─Ť opojn├ęho, ale tak├ę nebezpe─Źn├ęho sv─Ťta rhythm'n'blues a soulu.
Otev┼Öeli pomysln├í vr├ítka jimi┼ż pro┼íli budouc├ş velik├íni hudby ┼íedes├ít├Żch let, jako byli nap┼Ö├şklad The Temptations. "M─Ťli b├Żt uzn├íni mnohem d┼Ö├şve," ┼Öekl Otis Williams, ─Źlen Temptations, v telefonick├ęm rozhovoru u p┼Ö├şle┼żitosti uveden├ş "5" Royales do Rock'n'rollov├ę s├şn─Ť sl├ívy. "Ale v┼íechno m├í sv├ę m├şsto a ─Źas. V┼żdy budou jednou z velk├Żch vok├íln├şch skupin. Prost─Ť, m─Ťli z┼Öeteln├Ż zvuk, kter├Ż byl pro n─Ť typick├Ż."
V jejich reperto├íru byly zastoupeny harmonicky bohat├ę skladby v duchu gospelov├Żch The Larks nebo harmony vocalov├Żch The Five Keys, ale i drav─Ť┬ánevyzpytateln├í, zemit├í, ran─Ť rockov├í ─Ź├şsla, inspirovan├í prvn├şmi ├║sp─Ť┼ín├Żmi ┼ż├ínrov├Żmi pion├Żry, jak├Żmi byli obskurn├ş newyor┼ít├ş Frankie Lymon And The Teenagers.
Po─Ź├ítky kvintetu syn┼» kr├ílovsk├Żch
Na konci ─Źty┼Öic├ít├Żch let vznik├í v Severn├ş Karolin─Ť ─Źist─Ť gospelov├í skupina Royal Sons. Zalo┼żil ji n─Ťkdej┼í├ş horn├şk Lowman Pauling Sr. se sv├Żmi t┼Öemi syny Lowmanem Jr., Clarencem a Curtisem. Na kvintet Royal Sons Quintet je z├íhy doplnil Johnny Holmes. Paulingovi synov├ę nad┼íen─Ť poslouchali rozhlasov├í vys├şl├ín├ş, na nich┼ż nej─Źast─Ťji zn─Ťly nahr├ívky Counta Basieho, Elly Fitzgerald a Jimmieho Lunceforda.
V roce 1951 si je do sv├ę st├íje vybere newyorsk├Ż label Apollo Records. V t├ę dob─Ť do n├ş pat┼Öili nap┼Ö├şklad Mahalia Jackson, Dixie Hummingbirds nebo Roberta Martin Singers. Je┼ít─Ť do konce roku Syn┼»m kr├ílov├Żm vych├íz├ş dva evangelick├ę singly Bedside Of A Neighbour / JourneyÔÇÖs End a Come Over Here / Let Nothing Separate Me. V neb├Żvale kvalitn├ş a po─Źetn├ę firemn├ş konkurenci byla ┼íance na n─Ťjak├Ż v├Żrazn─Ťj┼í├ş ├║sp─Ťch minim├íln├ş.
zrozen├ş "5" Royales
Veden├ş firmy, ale m─Ťlo s Royal Sons Quintet jin├ę pl├íny. Asi jim nedalo p┼Ö├şli┼í pr├íce p┼Öesv─Ťd─Źit ─Źleny kvintetu, aby se vydali do h├íjemstv├ş sekul├írn├şho showbusinessu, ve kter├ęm tehdy z├í┼Öili The Clovers nebo The Ravens. V pr┼»b─Ťhu jedn├ę studiov├ę frekvence nazp├şvaj├ş, tehdy ji┼ż coby Royals, dv─Ť rhythm'n'bluesov├ę skladby Too Much Of A Little Bit a Give Me One More Chance.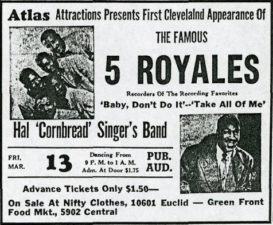 Singl se sice p┼Ö├şli┼í neprod├íval, ale p┼Öiv├íbil necht─Ťnou pozornost vydavatelstv├ş Federal Records, kter├ę ji┼ż d┼Ö├şve podepsalo smlouvu se skupinou stejn├ęho jm├ęna.
Pr├ívn├şci Federalu za─Źali hrozit ┼żalobami a tak se na doporu─Źen├ş Carla Le Bowea, majitele Apollo Records, zrodili "5" Roayles – tehdy ji┼ż v klasick├ę sestav─Ť Lowman "Pete" Pauling, Johnny Tanner, James E. "Jimmie" Moore, Obediah "Scoop" Carter a Otto Jeffries. Hudebn├ş doprovod jim obvykle zaji┼í┼ąovali Charlie (Little Jazz) Ferguson And His Orchestra.
V pr┼»b─Ťhu n├ísleduj├şc├şch let se sestava p┼Ö├şli┼í nem─Ťnila. Pokud p┼Öeci jenom k n─Ťjak├Żm v├Żm─Ťn├ím do┼ílo, jednalo se v├şcem├ęn─Ť o z├ískoky vynucen├ę povol├ívac├şmi rozkazy do U.S. Army.
Na v─Ťt┼íin─Ť klasick├Żch sn├şmk┼», po┼Ö├şzen├Żch v pr┼»b─Ťhu prvn├ş dek├ídy existence kapely, zp├şv├í prvn├ş hlas tenorista Johnny Tanner. K n─Ťmu se od roku 1954 do l├ęta 1964 p┼Öipojil coby druh├Ż tenor jeho bratr Eugene. Nahradil Otto Jeffriese, kter├Ż se a┼ż do rozpadu skupiny staral o jej├ş finance. Barytonista Jimmie Moore pobyl do roku 1963. Nejv─Ťrn─Ťj┼í├şm a nejst├ílej┼í├şm ─Źlenem kvintetu byl barytonista/tenorista "Scoop" Carter. Skupinu neopustil po celou dobu jej├ş existence.
Jejich prvn├ş jedni─Źkou na singlov├ęm ┼żeb┼Ö├ş─Źku BillboardÔÇÖs R&B chart se stane v srpnu 1952 p├şse┼ł Baby DonÔÇÖt Do It. O rok pozd─Ťji vystoup├í stejn─Ť vysoko nahr├ívka┬áHelp Me Somebody. Do roku 1954 vydaj├ş dal┼í├ş ─Źty┼Öi singly, kter├ę se probij├ş a┼ż do TOP 10 rhythm'n'bluesov├ę hitpar├ídy –┬á Laundromat Blues, I Do,┬áI Want To Thank You a Cry Some More.
V r├ímci turn├ę po tzv. Chitlin' Circuit obr├í┼ż├ş segregovan├ę koncertn├ş s├íly hluboko na Jihu, ale proraz├ş i do newyorsk├Żch klub┼» a slavn├ęho hralemsk├ęho Apollo Theatre. Na ┼í┼ł┼»┼Öe se potk├ívaj├ş s Little Richardem, Ettou James nebo Benem E. Kingem.
lowman┼»v kytarov├Ż part "rozsv├ştil" nahr├ívku skladby think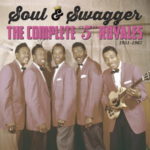 Leaderem a kl├ş─Źovou postavou "5" Royales byl v┼żdy Lowman Pauling Jr.. M─Ťl na sv─Ťdom├ş valnou ─Ź├íst reperto├íru a za─Źal v├Żborn─Ť hr├ít na kytaru. Pauling┼»v hlubok├Ż bas a chytlav├ę kytarov├ę party se staly hlavn├şmi pozn├ívac├şmi znaky jejich nahr├ívek pro King Records.
Za sv┼»j velk├Ż hr├í─Źsk├Ż vzor jej pova┼żuj├ş nap┼Ö├şklad kytarista a producent Steve Cropper z memphisk├Żch Booker T &The MG's nebo britsk├í bluesrockov├í modla Eric Clapton. Mezi jeho obdivovatele pat┼Öil i Jimi Hendrix.
Zaj├şmav├ę je, ┼że zpo─Ź├ítku nat├í─Źeli kytarov├ę party jin├ş kytarist├ę. V gospelov├Żch dob├ích u Apollo Records to byl Charlie Singleton, zat├şmco King Records obvykle s oblibou vyu┼ż├şvali slu┼żeb ┼íikovn├ęho studiov├ęho prof├şka Mickeyho Bakera.
V ├║noru 1957 se skupinou spolupracoval dal┼í├ş legend├írn├ş kytarista Tiny Grimes. Nikdo si ji┼ż p┼Öesn─Ť nepamatuje, jak do┼ílo k tomu, ┼że si uprost┼Öed studiov├ę frekvence vzal do ruky kytaru Pauling. Okam┼żit─Ť vyst┼Öihl ├║┼żasn├Ż doprovod do p├şsn─Ť Think.
Nahr├ívka se stala v├Żznamn├Żm mezn├şkem v historii kapely. Jej├ş cover nazp├şval funkov├Ż kmotr James Brown. Skladba se stala trvalou sou─Ź├íst├ş jeho reperto├íru. Existuje mnoho Jamesov├Żch v─Ťrn├Żch fanou┼ík┼», kte┼Ö├ş bez v├íh├ín├ş odp┼Ö├şs├íhnou, ┼że ji slo┼żil jejich obl├şbenec. A p┼Öitom, perfektn─Ť rozhoupan├í origin├íln├ş nahr├ívka "5" Royales je mnohem lep┼í├ş, ne┼ż Brownova funkov├í p┼Öekop├ívka.
Dal┼í├şm ├║sp─Ť┼ín├Żm ─Ź├şslem byla drsn─Ť rhythm'n'bluesov├í skladba se soulov├Żmi vylep┼íen├şmi Dedicated To The One I Love. Do obchodn├ş s├şt─Ť ┼íla p┼Öed V├ínoci 1957. Proslavila se i d├şky verzi od p┼Öedstavitelek "naivn├şho st┼Öedo┼íkolsk├ęho pop├şku" The Shirelles a je┼ít─Ť pozd─Ťji coby ├║sp─Ť┼ín├Ż popov├Ż hit folkov├Żch Mamas And Papas.
obvykl├í f├íze "┼ít─Ťpen├ş" sil
P┼Öibli┼żn─Ť od roku 1959 se od "5 Royales" za─Ź├şnaj├ş "od┼ít─Ťpovat" r┼»zn├ę pobo─Źn├ę skupiny. V jejich ─Źele nej─Źast─Ťji stoj├ş Pauling. Nejd┼Ö├şve se vr├ítil spolupr├íci s Royalem Abbitem, prap┼»vodn├şm zp─Ťv├íkem a kl├ívesistou Royal Sons.
Spole─Źn─Ť vyd├ívaj├ş singly pod n├ízvy kapel El ( ÔÇśEdÔÇÖ) Pauling & The Royalton, El Pauling And Royal Abbit nebo The Exciters a pozd─Ťji The Poor Boys. Lowman vypom┼»┼że vok├íln├şmi harmoniemi i za─Ź├şnaj├şc├şmu ekvilibristick├ęmu bluesmanovi Guitar Shortymu na sn├şmku Pumpkin Pie, po┼Ö├şzen├ęm v pr┼»b─Ťhu jedn├ę losangelsk├ę studiov├ę frekvence.
Na tomto m├şst─Ť m┼»┼żeme zm├şnit i dal┼í├ş osudy Lowmanova bratra Clarence. Ten si po odchodu z Royal Sons zvolil um─Ťleck├ę jm├ęno Clarence Paul, pod kter├Żm ud─Ťlal producentskou a mana┼żerskou kari├ęru ve veden├ş "tov├írny na hity" Motown Records. Clarence pat┼Öil mezi d┼»le┼żit├ę pr┼»vodce kari├ęrou tamn├ş hv─Ťzdy Stevieho Wondera. Brat┼Öi Paulingovi spole─Źn─Ť napsali n─Ťkolik p├şsn├ş nejenom pro Wondera, ale i pro Marvina Gaye.
V memphisk├ęm dom─Ť blues
Royal Abbit se na za─Ź├ítku ┼íedes├ít├Żch let st├ív├í ┼Öadov├Żm ─Źlenem "5" Royales. Jeho klav├şrn├ş a varhann├ş vyhr├ívky v t├ę dob─Ť v├Żznamn─Ť ovlivn├ş jejich nahr├ívky pro memphisk├Ż label Home Of The Blues, kam p┼Öejdou od King Records po nechutn├ę pr├ívn├ş tahanici s Jamesem Brownem o p┼Öizn├ín├ş autorstv├ş skladby Think.
V polovin─Ť ┼íedes├ít├Żch let je v─Ťt┼íina ─Źlen┼» ji┼ż unavena z v─Ť─Źn├ęho koloto─Źe vystupov├ín├ş a studiov├ęho nahr├ív├ín├ş. Kapela se rozpad├í. Jedin├Żm, kdo cht─Ťl pokra─Źovat v hudebn├ş kari├ę┼Öe, byl Lowman Pauling.
P┼Öes jeho nesporn├Ż hudebn├ş talent se mu v dal┼í├şch letech p┼Ö├şli┼í neda┼Öilo. Ne├║sp─Ťch ut├íp─Ťl v lahv├şch levn├ęho alkoholu a na turn├ę dua Sam & Dave hr├íl coby doprovodn├Ż kytarista. Nakonec si p┼Öivyd─Ťl├íval jako ├║dr┼żb├í┼Ö v brooklynsk├ę synagoze. Um├şr├í osamocen v roce 1973 na n├ísledky epileptick├ęho z├íchvatu.
Symbolickou te─Źku za existenc├ş "5" Royales ud─Ťlal hudebn├ş historik┬áHolly George-Warren, kdy┼ż prohl├ísil: "P┼Öi┼íli s ├║pln─Ť nov├Żm a jin├Żm konceptem, spojuj├şc├şm rhythm'n'blues s modern─Ťj┼í├şm soulem. V jejich p├şsn├şch st├íle p┼Öevl├íd├í gospel, je┼ż je hudebn─Ť poh├ín─Ťl kup┼Öedu sv├Żm zvl├í┼ítn─Ť vzru┼íen├Żm vok├íln├şm c├şt─Ťn├şm."
Ukázky:
Royal Sons:
Bedside Of A Neighbor (1952)
– https://youtu.be/o4mIrSZm3AM
Royals:
Too Much Of A Little Bit / Give Me One More Chance
– https://youtu.be/kk99eUhg99s
"5" Royales:
Baby Don't Do It
– https://youtu.be/18QMGjKDqd4
Think
– https://youtu.be/RPp4yW5XEFU
Dedicated To The One I Love
– https://youtu.be/JC_-v3fG-0o