Naposledy aktualizováno: 30.10.2018
Vynikaj├şc├ş bluesov├í zp─Ťva─Źka Etta James (25. 1. 1938 – 20. 12. 2012, narozena jako Jamesetta Hawkins), budouc├ş ─Źlenka ─Źty┼Ö americk├Żch hudebn├şch s├şn├ş sl├ívy (Grammy Hall of Fame, Rock'n'Roll Hall of Fame, Blues Foundation Hall of Fame a Rockabilly Hall of Fame) a ┼íestin├ísobn├í dr┼żitelka cen Grammy, odstartovala hudebn├ş kari├ęru v kosteln├şm sboru.
Gospelov├ę za─Ź├ítky v kosteln├şm sboru
Narodila se jako┬á dcera ─Źtrn├íctilet├ę prostitutky Dorothy Hawkins. Matka nikdy neprojevovala o v├Żchovu dcery valn├ęho z├íjmu. Mal├í Jamesetta vyr┼»stala u p─Ťstoun┼», u kter├Żch ji Dorothy ob─Źas nav┼ít─Ťvovala.
Ji┼ż od p─Ťti let zp├şvala v kosteln├şm ch├│ru pod veden├şm sbormistra Jamese Earle Hinese. Sbor pravideln─Ť vystupoval i v lok├íln├şm r├ídiu KOWL a mal├í d├şvka se brzy stala sborovou s├│listkou.
P─Ťstoun si ale usmyslel, ┼że by mohl na jej├şm p─Ťveck├ęm talentu vyd─Ťlat a po┼żadoval, aby za─Źala zp├şvat v jin├ęm kostele. Jamesetta se ji┼ż do k Jamesu Hinesovi nikdy nevr├ítila.
Pod produk─Źn├şmi k┼Ö├şdly Harveyho Fuqui a johnnyho otise
Ve dvan├ícti letech se st├ív├í ─Źlenkou d├şv─Ź├şho doo-wop tria The Creolettes. Zaujmou producenta a rhythm'n'bluesov├ęho buben├şka Johnnyho Otise, kter├Ż s nimi po┼Ö├şd├ş jejich prvn├ş gramofonov├ę sn├şmky.
Kari├ęra Etty James ofici├íln─Ť odstartovala v p┼Öedve─Źer Dne d├şk┼»vzd├ín├ş 1953, kdy nahr├íla p├şse┼ł Rock With Me, Henry, kter├í byla je┼ít─Ť ten ve─Źer sm├şch├ína a druh├Ż den i vylisov├ína na singlech. Podle Ettiny autobiografie se zprvu prod├ívala v obchod─Ť s deskami, kter├Ż vlastnil Johnny Otis na Western Avenue v Los Angeles.
V roce 1955 se Creilettes p┼Öejmenuj├ş na Etta James and The Peaches a podepisuj├ş smlouvu u Modern Records. Label pat┼Öil bratrsk├ę ─Źtve┼Öici Lester, Jules, Saul a Joe Bihari. T─Ťm tak├ę ostatn─Ť pat┼Öila dce┼Öin├í spole─Źnost Kent Records u n├ş┼ż vych├ízely dal┼í├ş Ettiny ran─Ť rockov├ę nahr├ívky, na nich┼ż ji obvykle doprov├ízelo studiov├ę combo veden├ę saxofonistou Maxwellem Davisem.
Ze z├íplavy nahr├ívek se nakonec v├Żrazn─Ť uchyt├ş pouze singly The Wallflower (Roll With Me Henry) – jako odpov─Ť─Ć na hitov├Ż singl kapely The Midnighters, Good Rockin' Daddy a tak├ę Hey Henry. V roce 1956 Etta James vyr├í┼ż├ş na turn├ę s Little Richardem a Johnnym "Guitar" Watsonem.
P┼Öibli┼żn─Ť v t├ę dob─Ť se osamostat┼łuje a b─Ťhem dal┼í├şch ─Źty┼Ö let nahr├ív├í pod jm├ęny Etta "Missed Peaches" James, Etta James nebo v duu se sv├Żm tehdej┼í├şm p┼Ö├ştelem Harvey Fuquou, jako Betty And Dupree (nap┼Ö. skladba I Hope You're Satisfied).
smlouva s chicagsk├Żmi chess records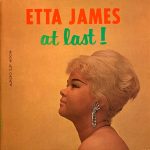 V roce 1960 podepisuje nahr├ívac├ş smlouvu s┬átalent scoutem a producentem Leonardem Chessem, spoluvlastn├şkem vlivn├Żch Chess Records. O rok pozd─Ťji vyd├ív├í u jejich jazzov├ęho labelu Argo Records prvn├ş dv─Ť LP desky At Last! a The Second Time Around.
U chicagsk├ęho bluesov├ęho labelu doch├íz├ş v jej├ş kari├ę┼Öe k v├Żznamn├ę prom─Ťn─Ť. Opou┼ít├ş dosavadn├ş rhythm'n'bluesov├ę zam─Ť┼Öen├ş, je┼ż bylo charakteristick├ę pro dobu, kdy v Los Angeles spolupracovala s bratry Bihariov├Żmi a p┼Öerod├ş se v soulov─Ť popovou femme fatale.
V reperto├íru p┼Öevl├ídaj├ş p┼Öedev┼í├şm balady s vynikaj├şc├şmi aran┼żemi smy─Źcov├ęho orchestru, je┼ż m├í na sv─Ťdom├ş v├Żte─Źn├Ż bebopov├Ż pianista Hampton Hawes. D├şky tomu se j├ş tak da┼Ö├ş n─Ťkolik dal┼í├şch let ├║sp─Ť┼ín─Ť torp├ędovat i celon├írodn├ş pop hitpar├ídu.
V roce 1963 zaboduj├ş na ┼żeb┼Ö├ş─Źc├şch singly Something's Got A Hold on Me a Stop The Wedding. Na jejich ├║sp─Ťch nav├í┼ż├ş Living You More Each Day a Baby What You Want Me to Do.
Je┼ít─Ť na konci t├ęho┼ż roku nat├í─Ź├ş v nashvillsk├ęm The New Era Club koncertn├ş album Etta Rocks The House (1964, Argo Records). Dokument ├ęry, kdy m─Ťla v┼íechno p┼Öed sebou – dlouho p┼Öedt├şm, ne┼ż jej├ş hlasov├ę p┼Öednosti oslabilo zneu┼ż├şv├ín├ş drog. Vibruj├şc├ş! Takov├í byla Etta James v ten ve─Źer, kdy p┼Öedvedla zcela uchvacuj├şc├ş ┼żiv├ę vystoupen├ş.
Deset nahr├ívek, kter├ę nemaj├ş se soulem nic spole─Źn├ęho
Argo Records se pokus├ş p┼Öi┼żivit na ┼żeb┼Ö├ş─Źkov├ęm ├║sp─Ťchu Etta Rocks The House a p┼Öiprav├ş dlouhohraj├şc├ş titul Queen Of Soul. Jde o bohapust├Ż kalkul a podvod na potencion├íln├şch kupc├şch. Deset nahr├ívek nem├í se soulem nic spole─Źn├ęho. Nav├şc jde o kompilaci nahr├ívek z posledn├şch dvou let.
V listopadu 1964, kdy LP deska vy┼íla, James zp├şvala nejl├ępe pr├ív─Ť tohle: blues, bluesov├ę balady a rhythm'n'blues. V t├ę dob─Ť se stala jednou z nejlep┼í├şch zp─Ťva─Źek ─Źerno┼ísk├ę hudby. A stejn─Ť jako mnoho jin├Żch vynikaj├şc├şch zp─Ťva─Źek bohu┼żel nebyla v┼żdy zaopat┼Öena t─Ťmi spr├ívn├Żmi p├şsn─Ťmi nebo hudebn├şmi aran┼żemi.
Queen Of Soul na┼ít─Ťst├ş obsahuje poklad Mellow Fellow z roku 1964. Etta na n─Ťm p┼Öedn├í┼í├ş z├ísadn├ş p─Ťveck├ę prohl├í┼íen├ş. Jej├ş siln├Ż hlas v├ęvod├ş nejenom gospelov├ęmu ├║vodu se skv─Ťl├Żmi sboristkami, ale i d├íl, kdy v┼íe jede podle ┼ż├ínrov├Żch not za zvuk┼» skv─Ťl├ę kytary, ├║┼żasn├Żch bic├şch a chroptiv─Ť ry─Ź├şc├şch dech┼».
Fe┼ąa─Źka s mnohaletou z├ívislost├ş
N├íhle, jakoby z ni─Źeho nic, j├ş doch├íz├ş p├íra. P┼Öibli┼żn─Ť od poloviny ┼íedes├ít├Żch let se propad├í do t─Ť┼żk├ę heroinov├ę z├ívislosti, se kterou bude bojovat cel├ę ─Źtvrtstolet├ş. Veden├ş Chess se s t├şm nehodl├í sm├ş┼Öit a usilovn─Ť hled├í cestu, jak o┼żivit sv├ęho "padl├ęho and─Ťla."
V roce 1967 se objev├ş na ─Źty┼Öech studiov├Żch frekvenc├şch ve vyhl├í┼íen├ęm hudebn├şm studiu Fame Studio v┬áalabamsk├ęm m─Ťst─Ť Muscle Shoals. Za zvukov├ęho a produk─Źn├şho dohledu Ricka Halla nazp├şv├í mj. singl Tell Mama, jen┼ż na B-stran─Ť doprov├íz├ş jedna z nejzn├ím─Ťj┼í├şch Ettin├Żch p├şsn├ş I'd Rather Go Blind.
Na za─Ź├ítku n├ísleduj├şc├şho roku vych├íz├ş album pojmenovan├ę stejn─Ť, jako ├║sp─Ť┼ín├Ż singl. I po letech pat┼Ö├ş mezi jej├ş v┼»bec nejlep┼í├ş LP desky a u─Źebnicov├ę p┼Ö├şklady ji┼żansk├ęho soulu. Solidn├ş pozornosti se do─Źkal rovn─Ť┼ż i dal┼í├ş sn├şmek vybran├Ż na singl – cover skladby Security od Otise Reddinga a tak├ę p├şse┼ł Steal Away.
Etta is Betta Than Evvah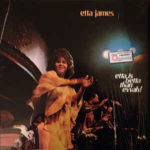 V polovin─Ť sedmdes├ít├Żch let se zd├í, ┼że se Etta James na chv├şli vymanila z drogov├ęho pekla. Jej├ş posledn├ş dv─Ť alba pro Chess Etta is Betta Than Evvah (1976) a Deep in The Night (1978) obsahuj├ş rockov─Ťj┼í├ş materi├íl.
Rolling Stones ji s sebou vezmou na turn├ę a z├írove┼ł s t├şm p┼Öich├íz├ş pozv├ín├ş na jazzov├Ż festival do ┼ív├Żcarsk├ęho Montreaux. L├íska k heroinu je v┼íak siln─Ťj┼í├ş. Etta mu op─Ťt podlehne. Se z├ívislost├ş p┼Öich├íz├ş v├í┼żn├ę zdravotn├ş probl├ęmy.
V roce 1989 se vyl├ę─Źen├í p┼Öipomene sv├Żm fanou┼ík┼» albem Seven Year Itch (Island Records), na n─Ťj┼ż nav├í┼że v n├ísleduj├şc├şch letech kolekcemi Stickin' To My Guns (1990, Island Records), The Right Time (1992, Elektra Music), jazzovou poklonou sv├ęmu velk├ęmu vzoru Mystery Lady: Songs Of Billie Holiday┬á(1994, Private Music Records) a soulov├Żm Time After Time (1995, Private Music Records), na n─Ťm┼ż se producentsky pod├şl├ş Jerry Wexler.
divok├Ż ┼żivotn├ş styl si za─Ź├şn├í vyb├şrat svoji da┼ł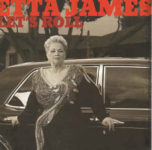 Do roku 2011 vych├íz├ş s├ęrie dlouhohraj├şc├şch komplet┼», z nich┼ż valn├í ─Ź├íst rozhodn─Ť stoj├ş za pozornost. Na nahr├ívk├ích z posledn├şch let se pod├şl├ş i Ettiny synov├ę – baskytarista Sametto a buben├şk Donto.
Po─Ź├şnaje koncertn├şm Burnin' Down The House: Live At The House of Blues (2002, Private Music Records), cenou Grammy odm─Ťn─Ťn├Żmi tituly Let's Roll (2003, Private Music Records) a Blues To The Bone (2004, RCA) nebo dal┼í├şmi studiov├Żmi CD disky Love's Been Rough On Me (1997, Private Music Records), Life, Love & The Blues (1998, Private Music Records), Matriarch of The Blues (2000, Private Music Records), Blue Gardenia (2001, Private Music Records).
Ettino pozn├ín├ş, ┼że na konci ┼żivota nem├í tu ohromuj├şc├ş intenzitu ve sv├ęm siln├ęm vok├ílu, se prom─Ťnilo v p┼Öednost t├şm, ┼że se soust┼Öedila se na downbeatov├Ż materi├íl. Odkaz Big "O" v┼żdy hrd─Ť nesla i ona. Ve verzi Cigarettes And Coffee, kter├í vy┼íla na jej├ş posledn├ş LP desce┬á The Dreamer (2011, Verve Forecast Records), konkuruje Otisu Reddingovi tich├Żm zoufalstv├şm v hlase, chraplav├Żm a l├ştostiv├Żm.
P┼Öed definitivn├şm odchodem z na┼íeho sv─Ťta Etta James v├í┼żn─Ť onemocn─Ťn├ş. Um├şr├í p─Ťt dn├ş p┼Öed sv├Żmi sedmdes├ít├Żmi ─Źtvrt├Żmi narozeninami a t┼Öi dny po odchodu jej├şho objevitele, Johnnyho Otise.
Ukázky:
Hey Henry – https://youtu.be/TuE4F4HBCOg
Something's Got A Hold on Me – https://youtu.be/_4RZSt4A3jU
Tell Mama – https://youtu.be/vA1tztJDVTk
Security – https://youtu.be/-eCtijI9svo
I'd Rather Be Blind (Live at Montreux 1975)
– https://youtu.be/uZt1xKtPbUQ
I Just Want To Make Love To You (Live at Montreux 1993)
– https://youtu.be/jZOgdP9MZg0
Burnin' Down The House: Live At The House of Blues
–┬á https://youtu.be/-wMRJyEAyrA
Cigarettes And Coffee
– https://youtu.be/-oIftCoCoTY