Naposledy aktualizováno: 4.1.2019
Trestuhodn─Ť p┼Öehl├ş┼żen├Ż a polozapomenut├Ż talent. S odstupem p─Ťti des├ştek let se m┼»┼że ji┼ż uzav┼Öen├í hudebn├ş kari├ęra vynikaj├şc├şho jazzov├ęho pianisty, skladatele a aran┼ż├ęra Elmo Hopea (27. 6. 1923 – 19. 5. 1967, narozen jako St. Elmo Sylvester Hope) jevit jako p┼Ö├şklad nenapln─Ťn├ş velk├Żch p┼Ö├şslib┼». Na vin─Ť byly p┼Öedev┼í├şm Elmovy dlouhodob├ę probl├ęmy s u┼ż├şv├ín├şm heroinu.
jeden ze t┼Ö├ş bebopov├Żch klav├şrn├şch mu┼íket├Żr┼»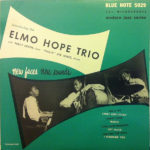 Od prvn├şch kr┼»─Źk┼» mezi profesion├íln├şmi hudebn├şky up┼Öednost┼łoval klasicky vzd─Ťlan├Ż pianista Elmo Hope uvoln─Ťn├Ż, odleh─Źen├Ż klav├şrn├ş p┼Öednes. V├Żrazn─Ť se t├şm vymezil od panuj├şc├ş bebopov├ę estetiky.
Slo┼żit├ę autorsk├ę┬ákompozice byly asi nejbl├ş┼że skladatelsk├ęmu pojet├ş jeho letit├ęho p┼Ö├ştele Theloniouse Monka, se kter├Żm m─Ťl spole─Źn├ę jist├ę hudebn├ş hleda─Źstv├ş a neklidnou touhu vynal├ęzat a zkou┼íet netradi─Źn├ş postupy.
Na mnoha nahr├ívk├ích Elmo bohu┼żel ─Źasto jen zlehka nazna─Źil, jak velk├Żch interpreta─Źn├şch v├Żkon┼» by byl schopen. A─Źkoliv je stylov─Ť jedine─Źn├Ż, s vlastn├ş, zvl├í┼ítn─Ť nenapodobitelnou a jakoby neuchopitelnou klav├şrn├ş hrou, b├Żval dobov├Żm hudebn├şm tiskem vn├şm├ín pouze coby v─Ť─Źn├Ż imit├ítor dal┼í├şho kump├ína z d─Ťtstv├ş – klav├şrn├şho virtuoza Buda Powella.
Elmo, Bud a Thelonious byli ve ─Źty┼Öic├ít├Żch let dvac├ít├ęho stolet├ş ozna─Źovan├ş jako trio v├Żrazn├Żch klav├şrn├şch talent┼», jim┼ż se od hudebn├şch kritik┼» dostalo p┼Öezd├şvky T┼Öi mu┼íket├Ż┼Öi.
nechat noty pozvolna plynout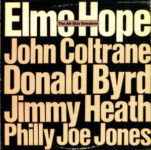 Elmo Hope nech├ív├í noty b─Ťhem hry pozvolna plynout. Zn├ş, jako kdy┼ż se rozlit├Ż inkoust vp├şj├ş do pij├íku. Pom─Ťrn─Ť ─Źasto je tak├ę nasm─Ťruje k disonanci.
Sv├ę dovednosti a talent dal mj. k dispozici trumpetistovi Donaldu Byrdovi, saxofonov├Żm hv─Ťzd├ím Johnovi Coltraneovi a Hankovi Mobleymu na albu Elmo Hope Sextet: Informal Jazz (1956) vydan├ęm u Prestige Records. Na rozd├şl od bebopov├Żch za─Ź├ítk┼» Hopeovi evidentn─Ť v├şce prosp├şvala hardbopov├í rytmick├í r├íznost a tempo.
O p─Ťt let pozd─Ťji zopakoval to sam├ę, tentokr├ít p┼Öi spolupr├íci se saxofonisty Frankem Fosterem, Jimmym Heathem a trumpetistou Blue Mitchellem na dlouhohraj├şc├ş desce Elmo Hope Sextet And Trio: Homecoming! (1961) v produkci Orrina Keepnewse z labelu Riverside Records.
Ob─Ť alba se do─Źkala reedice v roce 1976 u spole─Źnosti Milestone Records. Vych├íz├ş na vinylov├ęm dvojalbum Elmo Hope, John Coltrane, Donald Byrd, Jimmy Heath, Philly Joe Jones: The All-Star Sessions.
Nejl├ępe mu vyhovoval form├ít klav├şrn├şho tria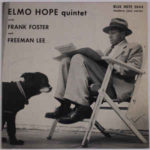 Elm┼»v jedine─Źn├Ż klav├şrn├ş koncept, typick├Ż svoj├ş p┼Öekvapuj├şc├ş elasticitou, nejv├şce z├í┼Ö├ş v nahr├ívk├ích s vlastn├şm triem.
Je z┼Öejm├ę, ┼że teprve ve form├ítu klasick├ęho, jazzov├ęho klav├şrn├şho tria bezezbytku vyu┼żil nab├şdnut├Ż prostor k realizaci vlastn├şch n├ípad┼» a k demonstraci vysp─Ťl├ę techniky.
V po─Ź├ítc├şch je Elmov├Żm ide├íln├şm buben├şkem Philly Joe Jones. Mezi kontrabasisty byl jasnou volbou Percy Heath a pozd─Ťji Paul Chambers. V t├ęto sestav─Ť vznikaj├ş prvn├ş desetipalcov├í dlouhohraj├şc├ş alba pro Blue Note Records, a┼ą ji┼ż New Faces New Sounds (1953), nebo o rok pozd─Ťji fanou┼íky vyhled├ívan├ę Elmo Hope Quintet (1954), na kter├ęm Philly Joea nahradil hardbopov├Ż "rana┼Ö" Art Blakey.
Hope nahr├íval rovn─Ť┼ż s Johnem Orem (basa) a Willim Jonesem (bic├ş), se kter├Żmi se setkal na albu Meditations (1955, Prestige). Dlouhohraj├şc├ş deska High Hope! (1961, Beacon) je ─Ź├íste─Źn─Ť tvo┼Öena kompilac├ş d┼Ö├şve vydan├Żch sn├şmk┼». Na n─Ťkolika nov─Ťj┼í├şch spolupracuj├ş Edward Warren (basa) a Granville Hogan (bic├ş).
j├şzda na "heroinov├ęm" koni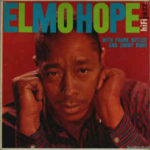 P┼Öibli┼żn─Ť od roku 1956 je v┼íem okolo jasn├ę, ┼że Elmo "rajtuje na heroinov├ęm koni". V pr┼»b─Ťhu studiov├Żch prac├ş se kamsi vytrat├ş. Vr├ít├ş se a┼ż za dva dny s v├Żmluvou, ┼że musel j├şt nav┼ít├şvit churavou tetu, co bydl├ş n─Ťkolik blok┼» od studia a ├║dajn─Ť ztratil pojem o ─Źase.
D├şky podobn├Żm exces┼»m se dost├ív├í do hled├í─Źku protidrogov├ęho policejn├şho odd─Ťlen├ş. Evidovan├Ż fe┼ą├ík ztr├íc├ş kabaretn├ş licenci ve st├ít─Ť New York, ─Ź├şm┼ż nem├í ┼íanci jako muzikant sehnat ┼żivobyt├ş.
St─Ťhuje se do Kalifornie, ale jde z bl├íta do lou┼że. Z├ívislost se prohloub├ş v pr┼»b─Ťhu spolupr├íce s jin├Żm t─Ť┼żce drogov─Ť z├ívisl├Żm – trumpetistou Chetem Bakerem.
V roce 1959 Hope z├şsk├í nahr├ívac├ş smlouvu u Contemporary/Vocalion s fam├│zn├şm westcoastov├Żm buben├şkem Frankem Butlerem a basistou Jimmym Bondem. V├Żsledkem je patrn─Ť jeho nejlep┼í├ş triov├í dlouhohraj├şc├ş deska Elmo Hope With Frank Butler And Jimmy Bond (1959, Contemporary/Vocalion).
Palivo rytmik nejlep┼í├şch hardbopov├Żch seskupen├ş na z├ípadn├şm pob┼Öe┼ż├ş USA
Ve stejn├ęm roce jsou Hopeovo piano a Butlerovy bic├ş palivem rytmick├ę sekce na albech jin├Żch leader┼». Nejprve na LP Fox (1959, HiFi Jazz) tenorsaxofonisty Harolda Landa. Nahr├ívalo se v srpnu 1959 v hollywoodsk├ęm Radio Recorders. V kvintetu je┼ít─Ť hr├íli trumpetista Dupree Bolton (dal┼í├ş zma┼Öen├Ż talent, opakovan─Ť v─Ťzn─Ťn├Ż d├şky mnoha drogov├Żm delikt┼»m) a na kontrabas Herbie Lewis.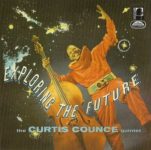 Podruh├ę spole─Źn─Ť p┼Öil├ęvaji topivo na sn├şmc├şch skupiny kontrabasisty Curtise Counce. Zakl├ídaj├şc├şmi ─Źleny zaj├şmav├ęho kvinteta byli saxofonista Harold Land, trumpetista Jack Sheldon a pianista Carl Perkins. Kapela pat┼Öila v letech 1956 – 1958 mezi nejlep┼í├ş hardbopov├í seskupen├ş na z├ípadn├şm pob┼Öe┼ż├ş USA.
Za mistrovsk├ę d├şlo je pova┼żov├íno jejich posledn├ş gramofonov├í deska Exploring The Future (1959, Dootone Records) – nato─Źen├ę s Elmo Hopem, jako n├íhradou za zesnul├ęho Perkinse a s nov├Żm trumpetistou Rolfem Ericsonem.
Osm skladeb ┼żhav├ęho jazzu, vydan├Żch v extravagantn├şm obalu, na n─Ťm┼ż Curtis p├│zuje v jak├ęmsi kosmick├ęm obleku, jsou skl├ídankami v├Żte─Źn├ęho bopov├ęho titulu. Bohu┼żel to bylo posledn├ş album basisty Counce v roli leadera p┼Öed jeho p┼Öed─Źasnou smrt├ş v roce 1963.
Hope Full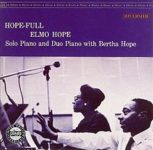 Dva roky po p┼Ö├şjezdu do Los Angeles se Hope potk├ív├í s u─Źitelkou hudby a jazzovou pianistkou Berthou Rosemond. Svatbu oslav├ş v roce 1960. V pr┼»b─Ťhu n─Ťkolika n├ísleduj├şc├şch m─Ťs├şc┼» se Elmo dost├ív├í do v├Żborn├ę psychick├ę a fyzick├ę kondice.
V l├ęt─Ť 1961 za n├şm p┼Öil├ęt├í producent Orrin Keepnews a spole─Źn─Ť p┼Öiprav├ş dva projekty. Nejd┼Ö├şve vznikaj├ş sn├şmky pro album Homecoming! a v listopadu Elmo nat├í─Ź├ş s├│lov├Ż klav├şrn├ş recit├íl Hope Full (1962, Riverside), na n─Ťm┼ż ho ve t┼Öech skladb├ích doprovod├ş Bertha.
Zvuky z rikers island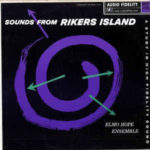 Posledn├ş Elmovy studiov├ę frekvence se uskute─Źnily 19. srpna 1963. Nato─Źil na nich materi├íl pozd─Ťji vydan├Ż na albu s p┼Ö├şzna─Źn├Żm n├ízvem Sounds From Rikers Island (1963, Audio Fidelity) – (pozn. autora Rikers Island je jm├ęno velk├ęho v─Ťze┼łsk├ęho komplexu na ostrov─Ť le┼ż├şc├şm mezi newyorsk├Żmi ─Źtvrt─Ťmi Queens a Bronx.
Od t├ę doby se p┼Öestal objevovat na ve┼Öejnosti. Znovu, a bohu┼żel definitivn─Ť, se propadl do heroinov├ę z├ívislosti. Posledn├ş, kdo se pokusil Elmovi pomoci byl v roce 1966 producent Herb Abramson ze spole─Źnosti Festival Records.
Herb zamluvil kv─Ťtnov├Ż a srpnov├Ż term├şn v newyorsk├ęm studiu A1 Sound Studios. Jako┬áHopeovi spoluhr├í─Źe p┼Öizval kontrabasistu Johna Orra, buben├şka Clifforda Jarvise a tak├ę d├ívn├ęho v─Ťrn├ęho par┼ą├íka Philly Joe Jonese.
Z├íznamy vych├íz├ş a┼ż o jeden├íct let pozd─Ťji na dvou vinylov├Żch albech Last Sessions (1977) a Last Sessions Vol. 2┬á(1977) na zna─Źce Inner City Records.
elmo hope way
V dne┼ín├ş dob─Ť je Elmo Hope nepochopiteln─Ť odsouzen k fanou┼íkovsk├ęmu zapomn─Ťn├ş. Je to dal┼í├ş velk├í mysteri├│zn├ş z├íhada jazzov├ę historie.
V roce 2016 se rozhodla rada newyorsk├ę m─Ťstsk├ę ─Ź├ísti Bronx┬áuct├şt Elmovu pam├ítku. Na jeho po─Źest p┼Öejmenovali ulici, na n├ş┼ż vyr┼»stal, na Elmo Hope Way.
Ukázky:
Stars Over Marakech – https://youtu.be/VoM9X5EuRJo
Crazy – https://youtu.be/7zFXiKobzCk
Barfly – https://youtu.be/JhRVP2CjrR4
Trippin' – https://youtu.be/63jW1slOtSg