Naposledy aktualizováno: 28.10.2022
Louisiansk├Ż plavovlas├Ż rock'n'rollov├Ż zp─Ťv├ík a pianista Jerry Lee Lewis (29. 9. 1935 – 28. 10. 2022) m─Ťl v┼żdy pov─Ťst ostr├ęho hocha. Do sv├Żch koncertn├şch show za┼Öazoval r┼»zn├ę divok├ę v├Żst┼Öelky. Lhostejno, zda ┼ílo o pravou nohu le┼ż├ęrn─Ť hozenou na klaviaturu b─Ťhem hran├ş, ┼íkub├ín├ş t─Ťlem nebo zp├şv├ín├ş ve stoje na korpusu piana.
Vyhazov z c├şrkevn├ş ┼íkoly
Prvn├ş klav├şrn├ş f├şgle se Jerry Lee Lewis nau─Ź├ş od sv├ęho otce Elma. Ostatn─Ť, rodi─Źe se v synovi vid─Ťli. Zat├ş┼żili sv┼»j d┼»m hypot├ękou, aby mohli osmilet├ęmu Jerrymu koupit piano za dev─Ťt set dolar┼». P┼»j─Źku nesplatili a p┼Öi┼íli o st┼Öechu nad hlavou.
Nejd┼Ö├şve se cht─Ťl st├ít duchovn├şm. V texask├ęm m─Ťst─Ť Waxahatchie nav┼ít─Ťvuje c├şrkevn├ş ┼íkolu The Assembly of God Institute. V pr┼»b─Ťhu studia hr├íl v tamn├şm ┼íkoln├şm orchestru.
Zde se tak├ę dost├ív├í poprv├ę do probl├ęm┼» kv┼»li hudb─Ť. D─Ťkanovi se nel├şbilo Jerryho Lee interpretace gospelov├ę p├şsn─Ť My God Is Real a po┼ż├íd├í ho, aby ┼íkolu opustil. Do sv├ęho reperto├íru ji pozd─Ťji za┼Öad├ş nap┼Ö. Mahalia Jackson, Johnny Cash nebo Don Gibson.
Z├şskan├ę muzikantsk├ę zku┼íenosti a harmonick├ę postupy pozd─Ťji zabuduje do sv├ę klav├şrn├ş hry. Na texask├ęm jihov├Żchod─Ť se mu ale p┼Öedev┼í├şm st├Żsk├í po domov─Ť a vr├ít├ş se k rodi─Ź┼»m.
Vzh┼»ru do hudebn├şch klub┼»
Profesion├íln├ş chleb├ş─Źek poprv├ę okus├ş v no─Źn├şch barech le┼ż├şc├şch na pomez├ş Texasu a Louisiany. Teoreticky, ale i podle platn├Żch m├şstn├şch z├íkon┼», by nem─Ťl m├şt do klub┼», kde se nal├ęv├í alkohol, coby adolescent povolen vstup. Majitel├ę ale na┼Ö├şzen├ş poru┼íili, jakmile poprv├ę sly┼íeli Lewise zahr├ít.
Za─Ź├şn├í v rodn├ęm m─Ťst─Ť Ferriday v klubu Dixie. Pozd─Ťji se p┼Öesouv├í do Hilltop Clubu v Natchez ve st├ít─Ť Mississippi. Odtud v roce 1952 vyr├í┼ż├ş se sv├Żm spoluhr├í─Źem Cecilem Harrelsonem do New Orleansu, kde si najdou pr├íci v klubu Big Easy. V─Ťt┼íinou hraj├ş┬á gospelov├ę nebo rhythm'n'bluesov├ę p├şsn─Ť.
Od m├şstn├şch hudebn├şk┼» se dozv├şd├í o vynikaj├şc├şm zvuka┼Öi Cosimo Matassovi, s n├şm┼ż spolupracovali tamn├ş rhythm'n'bluesov├ę hv─Ťzdy jako Fats Domino, Roy Brown, Smiley Lewis, Professor Longhair nebo Lloyd Price.
V Matassov─Ť nahr├ívac├şm studiu J & M Studio po┼Ö├şd├ş v necel├Żch sedmn├ícti letech svoje v┼»bec prvn├ş nahr├ívky. Za z├íznam tehdej┼í├şho country hitu Don't Stay Away (Till Love Grows Cold) od Leftyho Frizzella a vlastn├ş instrument├ílky Jerry's Boogie (zn├ím├ę tak├ę jako New Orleans Boogie) zaplatil dvaap┼»l dolaru, kter├ę nejd┼Ö├şve vyloudil u Cecila.
Hitpar├ídov├í hv─Ťzda Sun Records
Za necel├ę ─Źty┼Öi roky od prvn├ş studiov├ę frekvence se doslechne, ┼że za ├║sp─Ťchem Elvise Presleyho stoj├ş Sam a Judd Phillipsovi spole─Źn─Ť s Jackem Clementem. Odj├ş┼żd├ş do Memphisu a nav┼ít├şv├ş je ve studiu Sun Records. Traduje se, ┼że kdy┼ż jej Sam Phillips poprv├ę usly┼íel hr├ít a zp├şvat, doslova "vylet─Ťl nad┼íen├şm z k┼»┼że."
Jerryho prvn├ş ofici├íln─Ť distribuovanou nahr├ívkou se stane Crazy Arms, po┼Ö├şzen├í jako zku┼íebn├ş sn├şmek v pr┼»b─Ťhu p┼Öedv├íd─Ť─Źky u Phillipse. Obchodn├şm hitem se stane deska s p├şsn├ş Whola Lotta Shakin' Goin' On nahran├í v roce 1957.
Zabij├íck├Ż hit, o tom nen├ş nutn├ę diskutovat. Napsali ho spole─Źn─Ť David Curley Williams a Myriam S. Davidson. Pat┼Ö├ş ale nerozlu─Źn─Ť k jazzov├ę a rhythm'n'bluesov├ę zp─Ťva─Źce Big Maybelle. Pr├ív─Ť ona ji poprv├ę nazp├şvala a vydala v z├í┼Ö├ş 1955. Studiov├ęmu combu tehdy ┼í├ęfoval kultovn├ş aran┼ż├ęr Quincy Jones.
Jerry Lee tehdy za─Źal vyprod├ívat koncertn├şmi s├íly a jeho vystoupen├ş jsou propagov├ína sloganem Jerry Lee Lewis With His Pumping Piano. Dal┼í├şm zlat├Żm vejcem s fenomen├íln├şm ├║sp─Ťchem se stane t┼Öet├ş singl s p├şsn─Ťmi Great Balls of Fire / You Win Again. Z├írove┼ł se Lewis objev├ş ve filmech Disc Jockey Jamboree a High School Confidential, pro kter├Ż nap├ş┼íe i tituln├ş p├şse┼ł.
Skand├íl se t┼Öin├íctiletou nev─Ťstou
V roce 1958 p┼Öil├ęt├í na velk├ę turn├ę po Velk├ę Brit├ínii. V jeho pr┼»b─Ťhu vyplyne na povrch, ┼że je podle louisiansk├Żch z├íkon┼» ┼żenat├Ż se t┼Öin├íctiletou d├şvkou. Ostrovn├ş novin├í┼Öi na n─Ťj uspo┼Ö├ídaj├ş ┼ítvanici. Jerry Lee po t┼Öech koncertech rad─Ťji ┼í┼ł┼»ru ukon─Ź├ş a vrac├ş se do USA.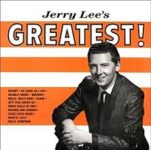 Ve St├ítech m├í skand├íl dohru ve vy┼Öazen├ş Lewisov├Żch nahr├ívek z rozhlasov├ęho vys├şl├ín├ş a nez├íjmu koncertn├şch promot├ęr┼» o jeho vystoupen├ş. Nam├şsto ned├ívn├Żch tu─Źn├Żch desetitis├şcov├Żch ┼íek┼» bere s povd─Ťkem k┼íefty za dv─Ťst─Ťpades├ít dolar┼» v pod┼Öadn├Żch tan─Ź├şrn├ích a zakou┼Öen├Żch pajzlech.
P┼Öij├şm├í nab├şdku na vyd├ín├ş singlu In The Mood / I Get The Blues When It Rains (1960) u pobo─Źn├ęho labelu Phillips International, pat┼Ö├şc├ş Sun Records. Instrument├ílky vych├íz├ş pod p┼Öezd├şvkou The Hawk. Z├írove┼ł doprov├íz├ş kytaristu Carla Perkinse na nahr├ívce singlu Matchbox.
Přestup do tábora C&W
Uvadaj├şc├ş kari├ęru nastartuj├ş hity Break Up, I'll Sail My Ship Alone, Lovin' Up A Storm nebo Let's Talk About Us. Z Jerryho Lee Lewise se stane vyhled├ívan├í hv─Ťzda mezin├írodn├şho form├ítu. S t├şm souvis├ş i nen├ípadn├Ż, ale trval├Ż p┼Öesun do t├íbora Country & Western. Typick├Żm p┼Ö├şkladem je balada Green, Green Grass Of Home z roku 1966.
Jerry Lee Lewis stylov─Ť vych├ízel z boogie woogie nahr├ívek. Jeho vrcholem jsou roky 1956 – 1958. Byl p┼Öirozen├Żm vzorem pro dal┼í├ş generace rock'n'rollov├Żch pianist┼». Dnes je uct├şv├ín coby ┼ż├ínrov├Ż klasik.
Ukázky:
Crazy Arms – https://youtu.be/4mWkI2kF9RI
Whola Lotta Shakin' Goin' On – https://youtu.be/RFxRTLmtsbE
High School Confidential – https://youtu.be/FjOLpNxaupU
I Get The Blues When It Rains – https://youtu.be/NLVDy4JCoVw
Green, Green Grass of Home – https://youtu.be/EEpHFU7NCls