Naposledy aktualizováno: 19.2.2018
Pokud se m├íme spole─Źn─Ť vydat po stop├ích rock'n'rollov├Żch pion├Żr┼», d┼Ö├şve nebo pozd─Ťji doraz├şme k monumentu americk├ę a sv─Ťtov├ę popul├írn├ş┬á hudby 20. stolet├ş, zp─Ťv├íkovi, skladateli a kytaristovi Johnnymu Cashovi (26. 2. 1932 – 12. 9. 2003, narozen jako J. R. Cash).
Za─Ź├ítky v Sun Records
Arkansask├Ż rod├ík Johnny Cash, bou┼Öliv├ík s divok├Żm ┼żivotn├şm stylem a nositel v├Żrazn─Ť hlubok├ęho hlasu, se po absolvov├ín├ş st┼Öedn├ş ┼íkoly up├ş┼íe coby radiov├Ż technik americk├ęmu letectvu. Slou┼ż├ş ─Źty┼Öi roky na z├íkladn─Ť v N─Ťmecku. B─Ťhem vojensk├ę slu┼żby si nap├ş┼íe ┼Öadu vlastn├şch p├şsni─Źek a po ve─Źerech je hr├ív├í v kant├Żn─Ť sv├Żm kamar├íd┼»m.
Po n├ívratu do USA se st─Ťhuje do Memphisu v Tennessee. Prod├ív├í elektrick├ę spot┼Öebi─Źe a chod├ş do ┼íkoly pro rozhlasov├ę hlasatele. Pokou┼í├ş se usp─Ťt v konkurzu u dnes legend├írn├şho hudebn├şho labelu Sun Records ve vlastnictv├ş Sama Phillipse. Jeho spoluhr├í─Źi jsou kontrabasista Marshall Grant a kytarista Luther Perkins, zn├ím├ş jako Tennessee Two.
Na reperto├íru maj├ş pouze gospelov├ę p├şsn─Ť. Phillips tehdy hledal n─Ťkoho origin├íln├şho. M─Ťl p┼Öedstavu countryov├ęho zp─Ťv├íka, kter├Ż by doplnil Elvise Presleyho a nato─Źil by pro Sun Records dal┼í├ş rockabilly p├şsn─Ť.
Rockabilly stylov─Ť vych├íz├ş ze spojen├ş hillbilly (jin├Ż n├ízev pro country music) a rock'n'rollu. Johnny Cash pat┼Ö├ş spole─Źn─Ť s Carlem Perkinsem, Jerrym Lee Lewisem, Royem Orbisonem a Charliem Richem mezi vytipovan├ę kandid├íty. P┼Öes ├║vodn├ş rozpaky Johnny Phillipse zaujal a podep├ş┼í├ş spolu dlouhodobou nahr├ívac├ş smlouvu.
Johnny Cash a jeho cesta za ├║sp─Ťchy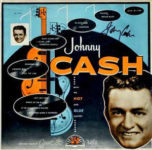 Ji┼ż v roce 1955 Cash vyd├ív├í ├║sp─Ť┼ín├Ż singl s p├şsn─Ťmi Hey Porter / Cry, Cry, Cry. Sedmipalcov├Ż debut se pohybuje v TOP 10 countryov├ęho ┼żeb┼Ö├ş─Źku. Stejn─Ť, jako jejich n├ísledovn├şci Folsom Prison Blues a So Doggone Lonesome.
Johnny je tak├ę prvn├şm zp─Ťv├íkem, kter├ęmu Sun Records vydaj├ş dlouhohraj├şc├ş desku. Byla j├ş kolekce p├şsn├ş z roku 1957 pod n├ízvem Johnny Cash With His Hot And Blue Guitar.
Pozd─Ťji k n├ş p┼Öibude dal┼í├şch ┼íest LP desek. Je to sv├Żm zp┼»sobem rarita. Sun Records vydali za dobu existence pouze dvan├íct dlouhohraj├şc├şch titul┼» a z nich do dne┼ín├ş doby z┼»staly v nab├şdce pouze ty od Johnnyho Cashe.
├Üsp─Ť┼ín├Ż zp─Ťv├ík m├í otev┼Öen├ę dve┼Öe do louisiansk├ęho m─Ťsta Shreveport a tamn├şho show Louisiana Hayride. Odtud ji┼ż vede cesta do presti┼żn├ş countryov├ę dvorany Grand Ole Opry v Nashvillu. P┼Öedch├íz├ş tomu ud─Ťlen├ş prvn├ş Zlat├ę desky za milion prodan├Żch v├Żlisk┼» singlu I Walk The Line / Get Rhythm.
Johnny Cash je nav├şc autorem hybn├ę rockov├ę p├şsni─Źky Rock'n'Ruby. Tu ale nazp├şv├í jin├í Phillipsova akvizice Warren Smith. V roce 1958 Cash p┼Öich├íz├ş s prvn├şm popov├Żm hitem Ballad Of A Teenage Queen, kter├Ż je doprov├ízen podobn├Żm middle of the road cukrl├ítkem v podob─Ť Big River.
Definitivn─Ť n├íle┼ż├ş mezi americk├ę megastars hudebn├şho byznysu
Se Sun Records se lou─Ź├ş p├şsn─Ťmi Sugar Time / My Treasure. V roce 1960 podep├ş┼íe smlouvu se CBS Records. U jednoho z nejv─Ťt┼í├şch americk├Żch hudebn├şch vydavatelstv├ş se uvede nahr├ívkami All Over Again / What Do I Care.
Po─Ź├ítek ┼íedes├ít├Żch let dvac├ít├ęho stolet├ş je ve znamen├ş Cashovy nar┼»staj├şc├ş popularity. Countryov├ş fandov├ę ho zbo┼ż┼łuj├ş. Tomu odpov├şd├í i jejich neutuchaj├şc├ş z├íjem o jeho nahr├ívky a vystoupen├ş. Johnny bez probl├ęm┼» vyprod├ív├í velk├ę koncertn├ş ar├ęny a jeho gramofonov├ę desky dosahuj├ş vynikaj├şc├şch prodejn├şch ─Ź├şsel.
Pracn─Ť vydobytou pozici si udr┼żel i v dal┼í├şch letech. A to navzdory v├í┼żn├Żm probl├ęm┼»m se z├ívislost├ş na alkoholu a drog├ích. "Ob─Źas jsou ve mn─Ť dva lid├ę. Johnny je ten hodn├Ż. Cash zp┼»sobuje v┼íechny probl├ęmy. V┼żdycky se spolu porvou," ┼Ö├şk├íval o sob─Ť. A┼ż do sv├ę smrti v roce 2003 zaslou┼żen─Ť pat┼Öil mezi sv─Ťtov─Ť uzn├ívan├ę hudebn├ş ikony.
Vystoupen├ş ve Sportovn├ş hale Parku kultury a oddechu Julia Fu─Ź├şka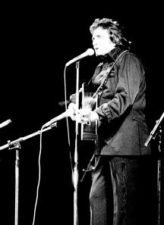 V ─îeskoslovensku vystoupil Man In Black, jak zn─Ťla jeho p┼Öezd├şvka, v roce 1978. Nep┼Ö├şmo, a samoz┼Öejm─Ť necht├şc, tak potvrdil zvl├í┼ítn├ş vztah vl├ídnouc├şch bol┼íevick├Żch k├ídr┼» ke country music.
Z n─Ťjak├ęho pochybn├ęho d┼»vodu jim tento hudebn├ş styl nevadil. ├Üdajn─Ť m─Ťl n─Ťkdo ze ┼átrougalova rodinn├ęho okol├ş prohl├ísit, ┼że se mu Country & Western l├şb├ş.
Na rozd├şl od rockov├Żch kapel nebyl na ─Źesk├ę c&w skupiny a interprety po┼Ö├íd├ín likvida─Źn├ş lov, by┼ą se ur─Źit─Ť nevyhnuli pe─Źliv├ęmu dohledu St├ítn├ş bezpe─Źnosti.
Ukázky:
Hey Porter- https://youtu.be/bksZ4Qu18kc
So Doggone Lonesome – https://youtu.be/bDfPUu6pGZE
I Walk The Line – https://youtu.be/xObSJWIWui0
Get Rhythm – https://youtu.be/ODjCufSt6_I
Ballad Of A Teenage Queen – https://youtu.be/9hWW8Lr-Ajg
All Over Again – https://youtu.be/bw39luAf0e4