Naposledy aktualizováno: 29.6.2019
Neo-soulov├Ż kl├ívesista, fl├ętnista a producent Brian Jackson (11. 10. 1952) pat┼Öil v sedmdes├ít├Żch letech minul├ęho stolet├ş mezi nejbli┼ż┼í├ş spolupracovn├şky americk├ęho b├ísn├şka a zp─Ťv├íka Gila Scott-Herona.
str┼»jce americk├ę kontrakultury v hloubi sedmdes├ít├Żch let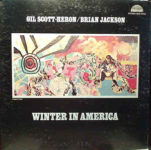 Brian Jackson, kter├Ż byl dlouho pova┼żov├ín za alter ego b├ísn├şka Gila Scott-Herona, jen┼ż zem┼Öel v roce 2011. Nechce, aby tento obraz, jakkoli pochvaln├Ż, slou┼żil k p┼Öekotn├ęmu shrnut├ş jeho z├í┼Öiv├ę kari├ęry.
Trvale vn├şm├í atmosf├ęru tohoto sv─Ťta a pokra─Źuje v hled├ín├ş nov├Żch zvuk┼», stejn─Ť jako kdysi velk├ę postavy "─Źern├ę hudebn├ş epopeje". Pokud na n─Ťm ulp├şv├í status str┼»jce americk├ę kontrakultury v hloubi sedmdes├ít├Żch let, je to sp├ş┼íe jeho role instrumentalisty a avantgardn├şho producenta, kter├í ud├ív├í t├│n ┼żivota tohoto ┼íarmantn├şho mu┼że.
Kl├ş─Źov├Ż hudebn├ş partner Gila Scott-Herona
Od roku 1971 do roku 1980 se ┼żivil zhudeb┼łov├ín├şm text┼» sv├ęho p┼Ö├ştele Gila Scotta-Herona. M├í lv├ş autorsk├Ż a interpreta─Źn├ş pod├şl na jeho celkem osmi studiov├Żch albech. ┼áest z nich vy┼ílo pod hlavi─Źkou dua Gill Scott-Heron / Brian Jackson. V─Źetn─Ť kl├ş─Źov├ęho Winter In America, vydan├ęho u Strata-East Records v roce 1974.
Na n─Ťj nav├í┼żou dal┼í├ş v├Żte─Źnou kolekc├ş The First Minute Of A New Day (1975, Arista Records), je┼ż vznikla s oktetem The Midnight Band. Ve skladb─Ť Winter In America na─Źrtnou Scott-Heronovy apokalyptick├ę vize budoucnosti Spojen├Żch st├ít┼» americk├Żch.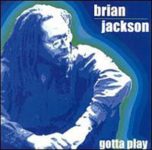 Brian se narodil a vyr┼»stal v Brooklynu. S o t┼Öi roky star┼í├şm Gilem se potkali v roce 1970 na pennsylv├ínsk├ę Lincoln College.
Ji┼ż v t├ę dob─Ť byl Scott-Heron cti┼ż├ídostiv├Żm b├ísn├şkem a spisovatelem. V Brianov├Żch o─Ź├şch byl zt─Ťlesn─Ťn├şm ─Źerno┼ísk├ęho barda prvn├ş polovina dvac├ít├ęho stolet├ş Langstona Hughese.
Gil se chystal p┼Öeru┼íit ┼íkolu, aby mohl dokon─Źit rozepsan├Ż rom├ín The Vulture (Sup). Brian si p┼Öe─Źetl n─Ťkolik spolu┼ż├íkov├Żch b├ísnick├Żch text┼» a p├ír jich spole─Źn─Ť zhudebnili. Na prvn├ş setk├ín├ş si vzpom├şn├í: "Gil bral psan├ş jako zp┼»sob sebevyj├íd┼Öen├ş a j├í jsem si pomyslel, ┼że tohle mus├şme dostat k lidem, aby si to mohli poslechnout."
Podivn├Ż konec spolupr├íce doprov├ízely finan─Źn├ş machinace
Vznikl z├íklad pro v├şce jak dek├ídu trvaj├şc├ş ├║sp─Ť┼ínou spolupr├íci. V jej├şm pr┼»b─Ťhu slou┼żily Brianova klidn├í, vyrovnan├í hra na Rhodes Piano a p┼Ö├ş─Źnou fl├ętnu coby spolehliv├í hudebn├ş protiv├íha Scott-Heronov├Żm v├í┼íniv├Żm text┼»m. Autor nav├şc sv├Żm zan├şcen├Żm p┼Öednesem vyvolal z├íjem nejenom ─Źerno┼ísk├ę populace o citliv├í soci├íln├ş t├ęmata.
Na prahu osm├ę dek├ídy se ├║sp─Ť┼ín├ę neo-soulov├ę duo rozch├íz├ş. Dohra prob├şhala za asistence pr├ívn├şk┼», kte┼Ö├ş museli vy┼Öe┼íit podez┼Öel├ę finan─Źn├ş operace na kont─Ť spole─Źn├ę produk─Źn├ş spole─Źnosti.
Johnsonovy skladby dodnes inspiruj├ş k odv├í┼żn├Żm adaptac├şm nebo samplov├ín├ş
Postupn├Ż v├Żvoj hudebn├şch ┼ż├ínr┼», spole─Źensk├í prom─Ťna ─Źerno┼ísk├ę Ameriky a neust├íl├í pot┼Öeba doprov├ízet sou─Źasn├ę um─Ťlce, to v┼íe legitimizuje jeho ─Źetn├ę projekty a spolupr├íci s minul├Żmi i sou─Źasn├Żmi interprety, kdy┼ż spolupracuje se zp─Ťva─Źkou Phyllis Hyman, vibrafonistou Royem Ayersem, kytaristou Georgem Bensonem, skupinou Kool And The Gang nebo rhythm'n'bluesov├Żm zp─Ťv├íkem Willem Downingem.
Jako klav├şristu a fl├ętnistu lze Briana okam┼żit─Ť identifikovat a jeho hudebn├ş projev se stal soundtrackem jedn├ę ├ęry. Jeho skladby dodnes inspiruj├ş k odv├í┼żn├Żm adaptac├şm nebo samplov├ín├ş n─Ťkter├ę z nejzn├ím─Ťj┼í├şch rapper┼», od Kanyeho Westa po Kendricka Lamara.
Briana tato docela lichotiv├í poklona bav├ş. Obklopen├Ż rebely jako Chuck D (Public Enemy), Mike Clark (The Headhunters), Killah Priest (Wu-Tang Clan) nebo dokonce Bobby Seale (Black Panthers), svolil k o┼żiven├ş protestn├şch my┼ílenek, kter├ę kdysi tak zda┼Öile zhudebnil.
Bylo by v┼íak zjednodu┼íuj├şc├ş ponechat si pouze subversivn├ş akcent svobodn├ęho ducha. Ano, Brian Jackson byl jedn├şm z architekt┼» protestu p┼Öed v├şce jak ─Źty┼Öiceti lety, ale um─Ťl trefn─Ť zachytit dobov├ę ot┼Öesy.
S├ím se znovu prom─Ťnil, ale z┼»stal vn├şmav├Ż
B─Ťhem let do┼íel k tomu, ┼że mus├ş vlastn├ş hudbu zcela prom─Ťnit, ale cit a vn├şmavost pro detaily ho neopustily. Jeho nad┼íen├ş z tak lahodn├ęho hlasu, jako m├í crooner Will Downing, nen├ş pouh├Żm ├║letem producenta, kter├Ż je ochoten ud─Ťlat jak├Żkoli kompromis, aby mohl obst├ít v nahr├ívac├şm pr┼»myslu. Jde o to um─Ťt rozpoznat skute─Źn├Ż potenci├íl um─Ťlce a sna┼żit se ho vyu┼ż├şt.
Jackson m├í tento dar. Dok├ízal to kdysi, kdy┼ż souzn─Ťl s Gilem Scott-Heronem, nebo kdy┼ż o t┼Öicet let pozd─Ťji velebil kvality mlad├ęho a st├íle nezn├ím├ęho Gregoryho Portera.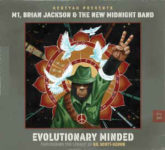 V roce 2000 vych├íz├ş Brianovo prvn├ş s├│lov├ę album Gotta Play (Roberts Music). Pokra─Źuje na n─Ťm v ji┼ż d┼Ö├şve vyty─Źen├ę um─Ťleck├ę cest─Ť spojuj├şc├ş rhythm'n' blues s jazzem.┬á Do studia p┼Öizve nejenom Scott-Herona, ale i Roye Ayerse, se kter├Żm v t├ę dob─Ť jezd├ş na turn├ę.
Na prvotin─Ť nov─Ť p┼Öepracuje n─Ťkolik star┼í├şch p├şsn├ş napsan├Żch je┼ít─Ť se sv├Żm d├ívn├Żm par┼ą├íkem. Nap┼Ö├şklad klasickou Home Is Where the Hatred Is uvedou pod n├ízvem Parallel Lean.
Na prahu nov├ęho tis├şcilet├ş se coby kapeln├şk d├ív├í dohromady s mlad├Żmi hip hopery
Na prahu nov├ęho tis├şcilet├ş se coby kapeln├şk d├ív├í dohromady s mlad├Żmi hip hopery Chuckem D. nebo duem Dead Prez. V roce 2013 vych├íz├ş CD disk Evolutionary Minded (Mot├ęma Records), na n─Ťm┼ż propoj├ş t┼Öi hudebn├ş ┼Öeky – hip hop, jazz a soul. Ke spolupr├íci p┼Öizve mj. MC M1 z Dead Prez, jazzov├ęho zp─Ťv├íka Gregoryho Portera, perkusionistu Airto Moreiru a soulov├ęho kytaristu Martina Luthera McCoye.
Na ot├ízku, pro─Ź spolupracuje s mladou hudebn├ş generac├ş, Jackson┬áodpov─Ťd─Ťl: "Ur─Źit─Ť si nechci tuhle muziku p┼Öivlast┼łovat. Kdybych to ud─Ťlal, okam┼żit─Ť ztrat├ş svoje kouzlo a je po v┼íem. Beru to tak, ┼że je moj├ş povinnost├ş p┼Öedat d├íl v┼íe, co jsem se nau─Źil. D┼»le┼żit├ę je, aby tahle tradice ┼żila d├íl."
Ukázky:
Gotta Play
– https://youtu.be/gpvH3jJ4_RE
Moody Too
– https://youtu.be/bcChon9qt9c?list=PL9Ut1Ll4yqLOFHKqO8eieBAOiTjXfjvoW
Parallel Lean
– https://youtu.be/06_fzV8xMi0
Song of the Wind (feat. Gregory Porter & Airto)
– https://youtu.be/_UgYi-ZJhpE
Opponent (feat. Dead Prez & Martin Luther)
– https://youtu.be/DQrDutR3kfg