Naposledy aktualizováno: 18.8.2018
Dnes┬ánepr├ívem p┼Öehl├ş┼żen├í zp─Ťva─Źka Erma Franklin (13. 3. 1938 – 7. 9. 2002, narozena jako Erma Vernice Franklin) se zapsala do hudebn├ş historie p┼Öedev┼í├şm interpretac├ş p┼»vodn├ş verze hitu Piece Of My Heart autorsk├ęho tandemu Berns/Ragovoy.
"Zp├şv├ín├ş pro n├ís bylo stejn─Ť p┼Öirozen├ę, jako d├Żch├ín├ş."
Ermin syt├Ż, proc├şt─Ťn├Ż a v┼Öel├Ż hlas, pln├Ż pokory a pochopen├ş pro jin├ę, byl ozdobou tehdej┼í├ş soulov├ę produkce. Byla star┼í├ş sestou zn├ím─Ťj┼í├ş soulov├ę divy Arethy Franklin, rovn─Ť┼ż skladatelky Candy Caroll (Carolyn Franklin) a dal┼í├şch dvou sourozenc┼». Sestry od d─Ťtstv├ş spole─Źn─Ť zp├şvaly gospelov├ę p├şsn─Ť v c├şrkevn├şch sborech.
Coby mladi─Źk├í teenagerka n─Ťkolikr├ít zv├şt─Ťzila v talentov├Żch p─Ťveck├Żch sout─Ť┼ż├şch. ăôsp─Ťchy vysv─Ťtlovala velice prost─Ť: "Zp├şv├ín├ş pro n├ís bylo stejn─Ť p┼Öirozen├ę, jako d├Żch├ín├ş."
Cleo-Patrettes – obdob├ş prvn├şch zku┼íenost├ş a nahr├ívek
Do sv─Ťta rhythm'n'blues nakoukne ji┼ż v patn├ícti letech. Zalo┼ż├ş doo-wopovou skupinu Cleo-Patrettes, s n├ş┼ż se prosad├ş v jednom p─Ťveck├ęm kl├ín├ş. Po vok├íln├şm kvartetu z┼»stanou dv─Ť nahr├ívky Say Would You Babe a No Other Love, ve kter├Żch zp├şv├í s├│lov├Ż part. Autorkou p├şsn├ş je jak├ísi Erma Jarrett. Lze p┼Öedpokl├ídat, ┼że j├ş je sama Erma Franklin.
Je┼ít─Ť ┼íelakov├í deska na rychlost 78 vy┼íla u J-V-B Recording, co┼ż byla pozoruhodn├í detroitsk├í firmi─Źka vlastn─Ťn├í Joe Von Battlem. Ve sv├ęm obchodu s gramofonov├Żmi deskami Joe's Record Shop nab├şzel i slu┼żby mal├ęho nahr├ívac├şho studia. Po┼Ö├şzen├ę sn├şmky nech├íval vylisovat v n├íkladech mezi jedn├şm a┼ż t┼Öemi sty kusy.
Celou produkci obvykle prodal p┼Ö├şmo na sv├ę prodejn─Ť nebo v jin├Żch detroitsk├Żch obchodech. Bohu┼żel, v─Ťt┼íina origin├íln├şch master┼» a v├Żlisk┼» sho┼Öela p┼Öi po┼ż├íru firemn├şho skladu v roce 1967.
Poprv├ę v roli SBORISTKY mlad┼í├ş sestry
Na konci p├ít├ę dek├ídy se Erma stane sou─Ź├íst├ş pl├ín┼» detroitsk├ęho producenta a skladatele Berryho Gordyho. Spole─Źn─Ť se spolupracovn├şkem Billym Davisem tehdy Gordy zalo┼żil novou hudebn├ş zna─Źku Tamla Records.
Agiln├ş hudebn├ş producenti p┼Öich├ízej├ş s nab├şdkou za Reverendem Franklinem, Ermin├Żm otcem, aby se dcera stala prvn├ş zp─Ťva─Źkou, kter├ę Tamla nab├şdne nahr├ívac├ş kontrakt. Reverend nesouhlas├ş. Trv├í na tom, aby dcera nejd┼Ö├şve dostudovala.
Nam├şsto hudebn├ş dr├íhy Erma nastoup├ş do ┼íkoly v Atlant─Ť. Pozd─Ťji se ┼żiv├ş kancel├í┼Ösk├Żmi pracemi na pozici asistentky ┼Öeditele. Z├írove┼ł si p┼Öivyd─Ťl├ív├í coby sboristka na prvn├şch koncertn├şch turn├ę mlad┼í├ş sestry Arethy.
Éra Epic Records a Lloyd Price Orchestra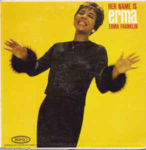 V roce 1961 se p┼Öest─Ťhuje do New Yorku. Otec mezit├şm dcer├ím domluv├ş testovac├ş nahr├ív├ín├ş. Areth─Ť v Columbia Records a Erm─Ť u jejich dce┼Öin├ę spole─Źnosti Epic, u nich┼ż tak├ę n├ísledn─Ť podep├ş┼íe nahr├ívac├ş smlouvu.
V pr┼»b─Ťhu dvou let j├ş vy┼íla slu┼ín├í v├írka sedmipalcov├Żch gramodesek a jeden dlouhohraj├şc├ş komplet Her Name Is Erma (1962, Epic).
Vedle v├Żb─Ťru z ji┼ż vydan├Żch singlov├Żch skladeb se na albu objevily tak├ę popov─Ťj┼í├ş p├şsn─Ť s orchestr├íln├şmi aran┼żemi (Detour Ahead nebo Time After Time). Neujasn─Ťn├í produkce vede k pochybnostem o budouc├şm sm─Ť┼Öov├ín├ş nad─Ťjn├ę zp─Ťva─Źky s v├Żrazn├Żm rhythm'n'bluesov├Żm od├ęrem v hlase.
Po vypr┼íen├ş smlouvy u Epic se na p─Ťt let uv├í┼że jako sboristka v combu doprov├ízej├şc├şm rhythm'n'bluesov├ęho zp─Ťv├íka a kapeln├şka Lloyda Price, jen┼ż je zn├ím├Ż pod p┼Öezd├şvkou Mr. Personality.
Spolupráce s bertem bernsem pro shout records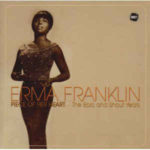 Nov├Ż nahr├ívac├ş kontrakt Erma podepisuje se Shout Records, dce┼Öinkou Bang Records. Ob─Ť spole─Źnosti spoluvlastnili producent Bert Berns a brat┼Öi Ertegunovi s Jerrym Wexlerem, je┼ż se spole─Źn─Ť proslavili aktivitami v Atlantic Records.
Po boku talentovan├ęho skladatele, jak├Żm Berns bezesporu byl, za┼żije sv├ę um─Ťlecky nejlep┼í├ş obdob├ş. Odstartuj├ş ho v srpnu 1967 nahr├ívkou skladby Big Boss Man od bluesov├ęho hitmakera Willieho Dixona.
V ├║vodu zm├şn─Ťn├í hitovka Piece Of My Heart doputovala na 10. m├şsto americk├ęho rhythm'n'bluesov├ęho ┼żeb┼Ö├ş─Źku. Erma za n├ş byla nominov├ína na cenu Grammy pro nejlep┼í├şho nov├ęho zp─Ťv├íka.
V roce 1968 nazp├şv├í jej├ş acidrockovou ├║pravu zp─Ťva─Źka Janis Joplin. Columbia ji vyd├í 12. srpna 1968 na druh├ęm po─Źinu sanfrancisk├ę kapely Big Brother & The Holding Company s n├ízvem Cheap Thrills (1968, Columbia).
Erm─Ť mezit├şm vych├íz├ş dal┼í├ş dva singly Don't Catch The Dog's Bone a Baby, What You Want Me To Do. P┼Öes Bertovo zv├Ż┼íen├ę ├║sil├ş a enormn├ş snahu nezaznamenaly p├şsn─Ť tou┼żebn─Ť vyhl├ş┼żen├ę um─Ťleck├ę a obchodn├ş v├Żsledky.
Vy─Źerpan├Ż Berns um├şr├í na rozs├íhl├Ż srde─Źn├ş atak p┼Öedposledn├ş den roku 1967. Ze spole─Źn─Ť p┼Öipravovan├ęho dlouhohraj├şc├şho alba z┼»stala dokon─Źen├í pouze skladba Open Up Your Soul. Do─Źk├í se alespo┼ł vyd├ín├ş na singlu v dubnu 1968.
spolupráce s Electric Flag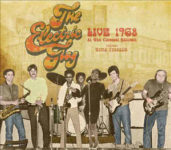 Na ja┼Öe 1968 Erma odehraje spole─Źn─Ť s bluesrockovou kapelou Electric Flag (mj. kytarista Mike Bloomfield, buben├şk Buddy Miles, bas├ík Harvey Brooks a dal┼í├ş v├Żte─Źn├ş muzikanti) t┼Öi vyprodan├í vystoupen├ş v sanfrancisk├ęm Carousel Ballroom.
Z├íznam ze z├ív─Ťre─Źn├ęho ve─Źera 21. dubna 1968 vych├íz├ş a┼ż po ─Źty┼Öiceti sedmi letech na CD kompletu s n├ízvem The Electric Flag Featuring Erma Franklin: Live 1968 (2015).
Magnetofonov├ę p├ísky s nahr├ívkami pravd─Ťpodobn─Ť celou dobu le┼żely pod postel├ş nebo zapr├í┼íen├ę ve skladu n─Ťjak├ęho vychytral├ęho pr├ívn├şka, jen┼ż je nejsp├ş┼íe koupil v r├ímci bal├şku jin├Żch akvizic.
P┼Öed lety se objevily na sd├şlen├Żch datov├Żch ├║lo┼żi┼ít├şch a voln─Ť kolovaly mezi fanou┼íky. Ofici├íln─Ť je vydaly a┼ż RockBeat Records, co┼ż je fanou┼íkovsk├Ż label specializovan├Ż na objevov├ín├ş star├Żch nahr├ívek .
smlouva s Brunswick a návrat mezi Arethiny sboristky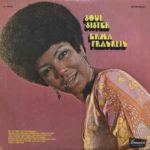 V b┼Öeznu 1969 Erma uzav├şr├í nov├Ż nahr├ívac├ş kontrakt s Brunswick Records, pat┼Ö├şc├ş pod k┼Ö├şdla Decca Records. Do ├║nora 1970 vych├íz├ş jedno album Soul Sister (1969, Brunswick) nap┼Ö. s p┼Öepracovanou Light My Fire od The Doors, roz┼í├ş┼Öen├ę o ─Źty┼Öi d┼Ö├şve vydan├ę p─Ťta─Źty┼Öic├ştky Gotta Find Me A Lover (24 Hours A Day), Savng My Love, I Just Don't Need You (At All) a Whisper's (Gettin' Louder).
Na po─Ź├ítku sedmdes├ít├Żch let absolvuje koncertn├ş ┼í┼ł┼»ry po USA, v Evrop─Ť, Africe a Karibiku. Dokon─Źili jsme vy─Źerp├ívaj├şc├ş p┼Öehled prakticky v┼íech jej├şch nahr├ívac├şch aktivit, ne┼ż se jako s├│listka definitivn─Ť vytratila fanou┼ík┼»m z o─Ź├ş.
V dal┼í├şch letech se tu a tam objevovala jako doprovodn├í zp─Ťva─Źka ve studiov├Żch nebo koncertn├şch sestav├ích ├║sp─Ť┼ín─Ťj┼í├ş sestry – sly┼í├şme ji nap┼Ö. ve skladb├ích You Make Me Feel Like (A Natural Woman), Baby, I Love You nebo v Do Right Woman, Do Right Man.
Na za─Ź├ítku osmdes├ít├Żch let se pod├şl├ş na Arethin─Ť albu Jump To It (1982, Arista), jemu┼ż se dostalo ocen─Ťn├ş American Music Award za nejlep┼í├ş rhythm'n'bluesov├Ż ┼żensk├Ż vok├íl. Sestry┬áFranklinovy ├║sp─Ťch zopakuj├ş po p─Ťti letech d├şky ocen─Ťn├ş Grammy za gospelov├Ż titul┬áOne Lord, One Faith, One Baptism (1987, Arista).
Erma se profesn─Ť nakonec na┼íla v soci├íln├şch slu┼żb├ích a v pr├íci pro ohro┼żen├ę a opu┼ít─Ťn├ę d─Ťti. Um├şr├í na rakovinu v roce 2002.
V roce 2009 vych├íz├ş v├Żte─Źn├ę rekapitula─Źn├ş dvojCD Erma Franklin: Piece Of Her Heart: The Epic And Shout Years (2009, Shout! Records). Velice d┼»stojn├í pocta.
Ukázky:
Cleo-Patrettes: Say Would You Babe / No Other Love
– https://youtu.be/efaVgsNqKWY
Don't Blame Me – https://youtu.be/aSA4t3P3EkQ
I Don't Want No Mama's Boy – https://youtu.be/51SWWFayLnY
Big Boss Man – https://youtu.be/wvm9L4f1fXg
Piece Of My Heart – https://youtu.be/KBnz6U2lzbU
Open Up Your Soul – https://youtu.be/UeTeLqaY81U
Light My Fire – https://youtu.be/LpZyYELyf18
Gotta Find Me A Lover – https://youtu.be/kwSuUrsheCM
Whispers – https://youtu.be/-hbbeTVjKSo
Mike Bloomfield's Electric Flag with Erma Franklin:
Big Boss Man – https://youtu.be/2Ma7MzQHyhs?t=9m23s